elspethdixon
and others, I've decided to make an index of my fics, forward-dated to be at the top of my journal. This isn't
everything
I've written since entering fandom in 2002, but it's most of it!
Note:
This list doesn't include HP drabbles (there are too many!), any filks, or any
theatrical_muse
prompt responses that weren't cross-posted to this journal as ficlets.
(
Tartanshell"s Fanfic
Collapse
)
Inspired by
Current Mood:

accomplished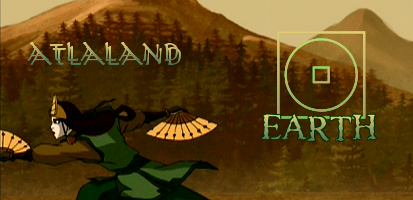 atlaland
is an Avatar: The Last Airbender challenge community, where you join a team and get points by playing games, writing fics, making graphics, and stuff. They only require you to participate once every two weeks, so, it's pretty low-stress. I'm pimping it partly to get points/participation, but also because I would really, really love if some people on my friendslist were playing, too! ♥
I'm on team Earth Kingdom. The signup post is
here
. If you apply, please mention that
tartanshell
sent you.
Come play with me!
Um, apparently I'm going to be doing this:
While I'm trying to formulate replies to the comments on my Avatar post that aren't just "SQUEE SQUEE SQUEE," I hope you don't mind if I ask for recs.
In general, I'm just looking for good AtLA fics, and am really not picky. Post-series epics that seem like canon would be awesomesauce. Anything at
all
featuring Zuko, Iroh, or Toph, because they're my three very favorites.
(
What I"m looking for in particular, cut in case of spoilers
Collapse
)
God, I haven't fallen this hard since...I don't even know. :D
Uh, I seem to have acquired a new fandom. Oops?
Current Mood:

curious
Title:
Five Reasons Why (We Don't Mention the Elephant in the Room)
Fandoms:
Daredevil/Iron Man 2
Characters/pairing:
Matt Murdock (Daredevil)/Natasha Romanoff (Black Widow)
Rating:
PG-13
Word count:
3368
Notes:
Written for
marvel_crossing
, for
wabbitseason
, for the prompt,
What's a beautiful ex-Russian spy doing in Hell's Kitchen?
Feedback is, as always, very much appreciated! ♥
( Five Reasons Why (We Don't Mention the Elephant in the Room) )
fannish5
:
Five canon moments that turned a character into a favorite character.
1. Snape at the end of GoF, in the moment that launched a
thousand
million fanfics. (Harry Potter)
2. Saul Tigh on New Caprica. (BSG)
3. Ellen Tigh revealed as the fifth. (BSG)
4. Foggy Nelson in the Daredevil movie: "I take salsa dancing lessons on the weekend, but you don't see me shaking my ass to pay my phone bill." (Daredevil)
5. Wesley joining Angel Investigations. (Angel)
From